Venesya Kosasi is a bookstagrammer currently living in Indonesia. She started her bookstagram account in 2019, combining two things she loves—reading and tea—to create the account. She mostly reads fantasy and contemporary, but wants to read more dark academia this year. When she's not reading books or manga, she can be found binging tv shows and anime on her laptop.
Introducing Venesya, the last curator for this month from Indonesia! Read along to find out more about her favourite picks, why she loves second-hand books, and what she recommends you to read. Be sure to head to our website to browse her curated collection! Happy reading🌱
---
Tell us a little bit about yourself.                                      
My name is Venesya and I'm currently living in Indonesia! When I'm not cozying up with a book or manga and a cup of warm tea for company, I'm easily found getting lost in shows, anime, and dramas. Playing the piano is also a pastime I enjoy!
Why/how did you start bookstagramming?      
I discovered bookstagram early on in 2019 but I spent months contemplating starting my own account. It wasn't until August that I finally decided to take a chance on it to step out of my comfort zone and started bookstagramming because I wanted to meet other readers. Since I didn't know many people who read, I wanted a place where I could share my favourite books with other bookworms.
What is your favourite genre, and why?
Fantasy is one of my favourite genres because it allows for so many possibilities, the creativity of the characters and the world-building is boundless. I also love that there are more diverse fantasy books being published these days. It's always a great joy to discover the myths and stories of different cultures that inspire different fantasy settings. Moreover, sometimes reading a good fantasy book can be a form of escape for me when reality becomes too hectic.
What is your desert island book/ favourite book?    
One of my favourite books or book series is the Poppy War trilogy by RF Kuang. It is an epic tale set in a fantasy setting inspired by modern China that tells of war, revenge, soldiers and gods. I love how it doesn't shy away from difficult themes and shows readers the brutality and far-reaching consequences of war. The characterization is detailed and so well done, the cast of characters have left a very deep impression on me and their dynamics are some of my favourites. I think it's such a masterpiece.
How did you hear about Thryft?                      
I first discovered Thryft through its Instagram!
Tell us more about your collection topic "Asian Author Spotlight".                                  
Joining bookstagram has given me many opportunities, but it's not just the experience but also the friendships I've made. We're people from different backgrounds, yet connected, by our love for books. It's such a supportive community, that our friendship isn't limited to just bookish things, there are many inspiring people in the community who have made me reflect on my reading, and this has gotten me to work on reading more own-voices books. Discovering more books with characters who share the same experiences as I do makes me feel seen while reading about other experiences allows me to understand other perspectives and educate myself more. So through this collection, I want to recommend some books by Asian authors from Thryft that I hope many people will enjoy as much as I have or will!
What are your top 3 books from the collection, and why?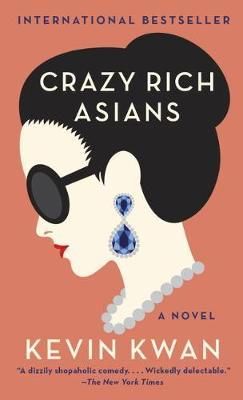 My top three books that I've read from the collection would be, Crazy Rich Asians, To All The Boys I've Loved and Two Dark Reigns. The dynamics of the diverse cast of characters are complex and layered, providing a deeper look into the various types of relationships in life. With Crazy Rich Asians I also have wonderful memories of reading it with my mom. Not to mention, there are many empowering female characters and family bonds that are lovely to read about.
What are your experiences with second-hand books, and why would you choose second-hand?                                                
As there aren't many second-hand bookstores or bookstores where I live, most of my second-hand books were my mother's! I've always loved reading since I was young and so I've borrowed so many of her books. I think a great thing about second-hand books is that you can always find evidence of how well-loved they are.
Anything else you'd like to say to our readers?
No matter what kind of books you like to read, reading is a fun hobby that helps you relax. For me, I think that the more books you read the more you can learn about yourself and the world around you. This is why I believe it's important to read and experience more diverse books. I hope that this list will be able to help readers who want to read more diverse books regardless of the genre!
---
We hope you enjoyed getting to know Venesya as much as we have. Click below to find a link to her curated collection of her favourite books!