It's been a busy few months at Thryft, where we've been quietly but furiously working on website upgrades to make your online thrifting experience better. As our online inventory grows to over 25,000 books and clothing items, we know a seamless browsing experience is even more important so that you can find gems that you love.
We're excited to welcome you to the first in a series of updates on our blog, where we'll be sharing these exciting changes that we've made.
In this post, we'll be focusing on the enhancements we've made to our product pages to create a more seamless and enjoyable shopping experience for you.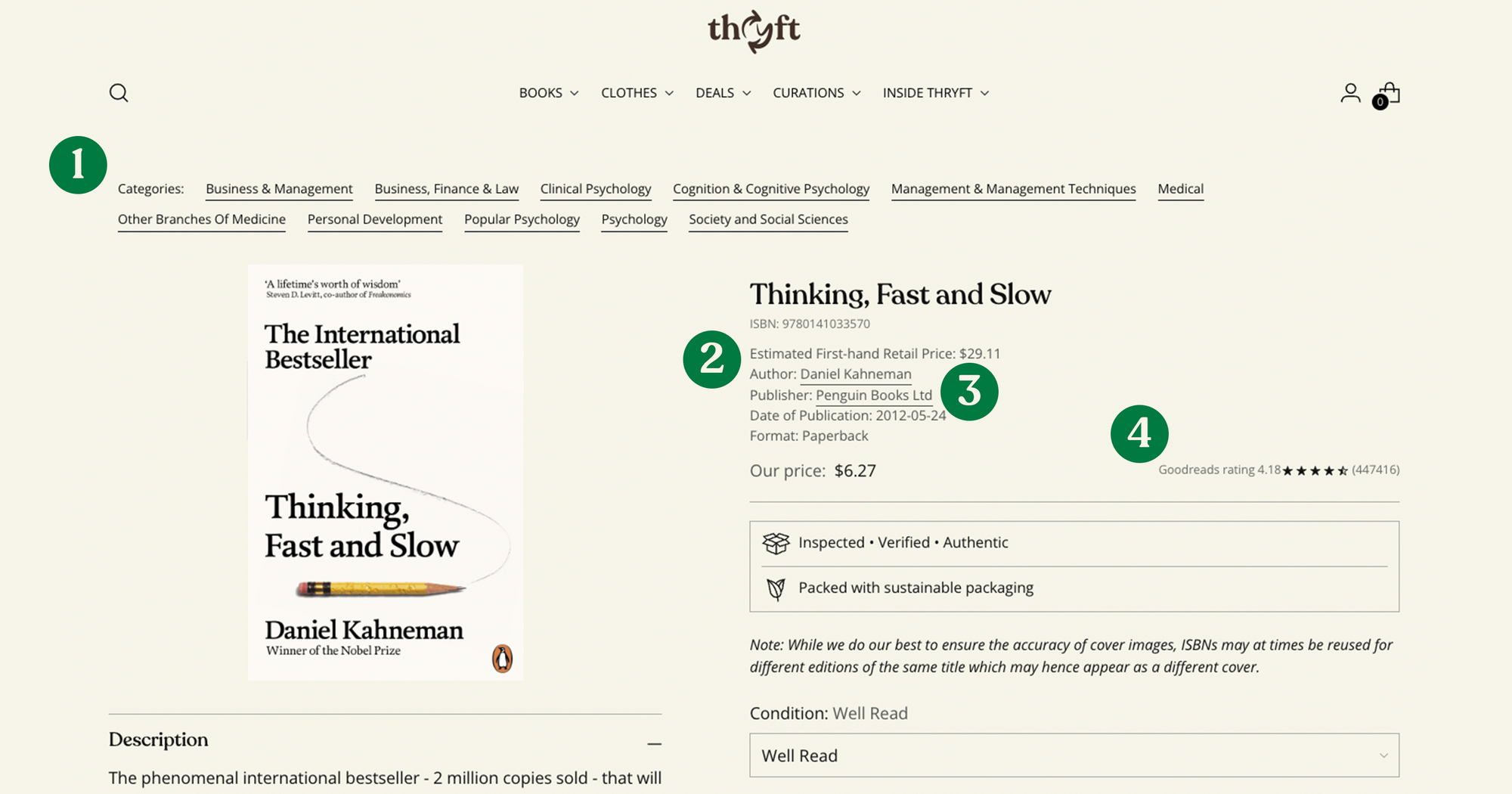 1. Related Categories for Easy Browsing
Having an intuitive browsing experience is important, and that's why we've made it easier for you to explore books from similar genres or sub-genres. Now, every product page features links to related categories that the book is sorted into. This allows you to dive deeper into the world of your favourite literary styles and discover even more fantastic reads!
2. Clickable Author Names for More of Your Favourites
If you've ever wanted to explore other books by the same author, you're in luck! On our updated product pages, author names are now clickable, making it simple to find and browse other books by the same author. This feature is perfect for those moments when you finish a fantastic book and just can't get enough of the author's work.
3. Discover More Books by the Same Publisher
Have you ever noticed that certain publishers have a knack for consistently producing books that resonate with you? With our upgraded product pages, you can now click on publisher names to explore more books by the same publisher. This is a great way to uncover new gems from the publishers you already know and love.
4. Make informed choices with Goodreads Ratings and Reviews
Ratings and reviews are valuable resources when it comes to choosing your next read. To help you make informed decisions, we've incorporated Goodreads ratings and the number of reviews on the product page of each book. Now, you can get an insight into what other readers think before making a purchase.
---
These product page upgrades are just the beginning of our journey to improve your Thryft experience. As our inventory grows and our community expands, we're committed to continually enhancing our website to make it even more user-friendly and enjoyable for all our customers.
Stay tuned for more updates on our blog, as we'll be sharing additional improvements and exciting news in the coming weeks. In the meantime, we hope you enjoy exploring our updated product pages and discovering new books and clothing items to love!
Happy thrifting!