It's International Women's Day in March, so there's been plenty of (necessary!) attention, on renowned women writers all over the world. As in our blog post on this week's online curation! In store at Second Story, we'd like to focus closer to home, on local women writers we hope you'd like to read. And here there're different genres for different readers; there's romance, a murder mystery, drama and poetry!
---
The Mimosa Tree Mystery by Ovidia Yu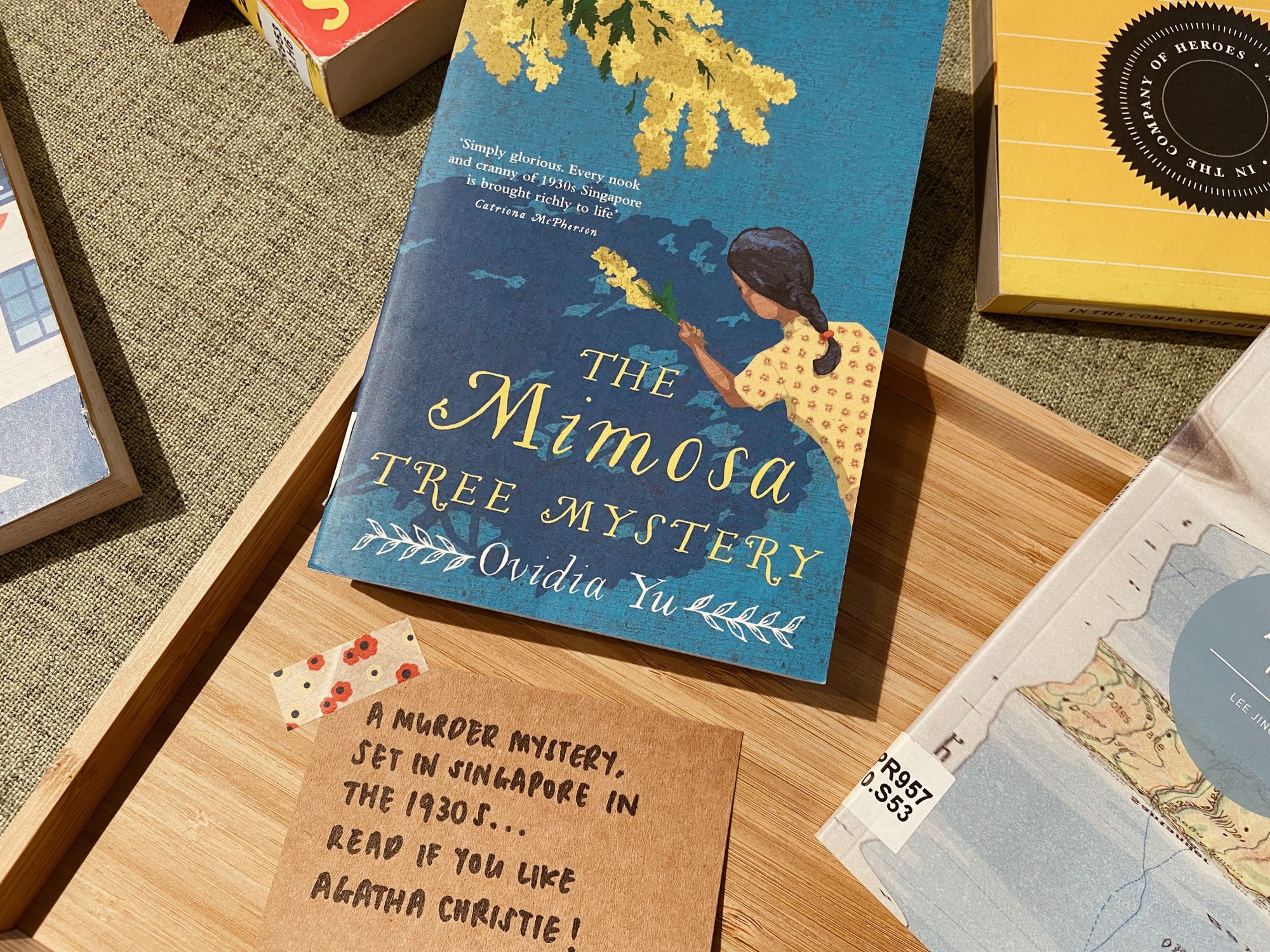 The Mimosa Tree Mystery is #4 in Ovidia Yu's Crown Colony series, a set of six murder mysteries set in Singapore in the 1930s. When Mirza, a known collaborator and blackmailer, is found murdered in his garden clutching a branch of mimosa, police suspect local acquaintances, Japanese officials and his own daughters. Amateur detective Su Lin must find out who killed Mirza and why, before her friends and family are made to pay, the price of Mirza's secrets.
Yu has described in a Straits Times article, Su Lin's "approach to handling life, murder, the British and the Japanese" as "wry, practical" and distinctly Singaporean. I've read and loved the series, which I'm enthusiastically recommending now, especially if, like me, you're a fan of Agatha Christie!
---
In the Company of Heroes by Verena Tay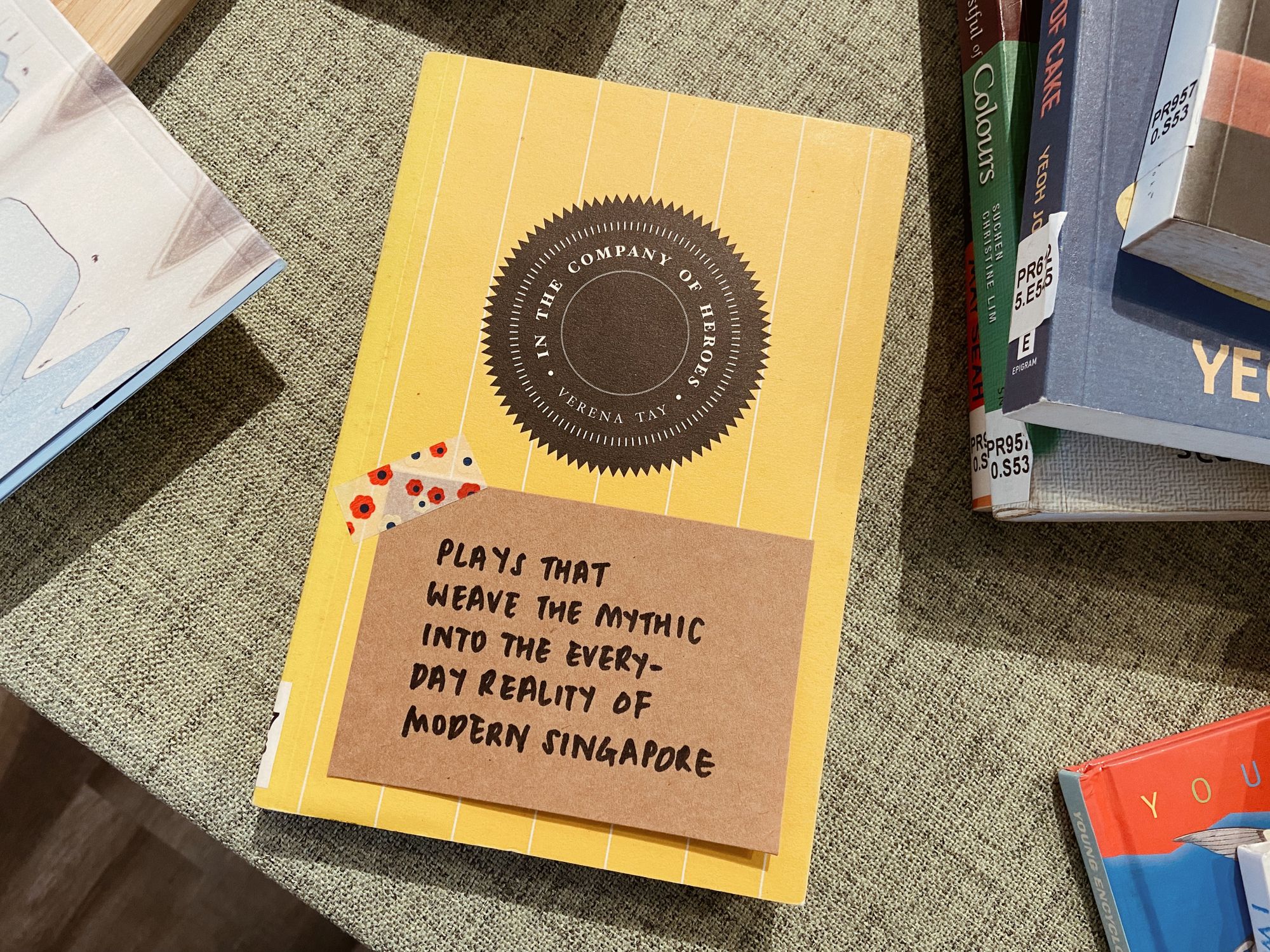 Here's an anthology of seven plays by seasoned theatre practitioner Verena Tay, that weave the mythic into the everyday reality of the modern Singaporean, in all its peculiarities. Plays include The Lunar Interviews, a sequence of monologues delivered by Hina of Polynesia, Chang'e of China and Diana of Greece/Rome, and Bumiputra Cina, a multilingual exploration of a Chinese Singaporean woman's conflicted sense of belonging, and identity in this country.
At the same time, Tay's plays are personal and moving. In her preface, she says of The Car, in which a young woman must get rid of her late father's most favourite possession, his car:
"…in the process of doing so, she comes to terms with what her father means to her… its autobiographical impetus was so close to my heart (the three characters are loosely based on me, my father and my father's actual beloved Fiat Marvellete). Growing up [my father's daughter] was a highly traumatic experience; yet I sensed that there was a story within all that pain that would have meaning for others, if only I could write it out as simply and honestly as possible…"
In the Company of Heroes promises to warm our hearts, and is an essential volume of Singaporean plays to add to any library.
---
Last Tang Standing by Lauren Ho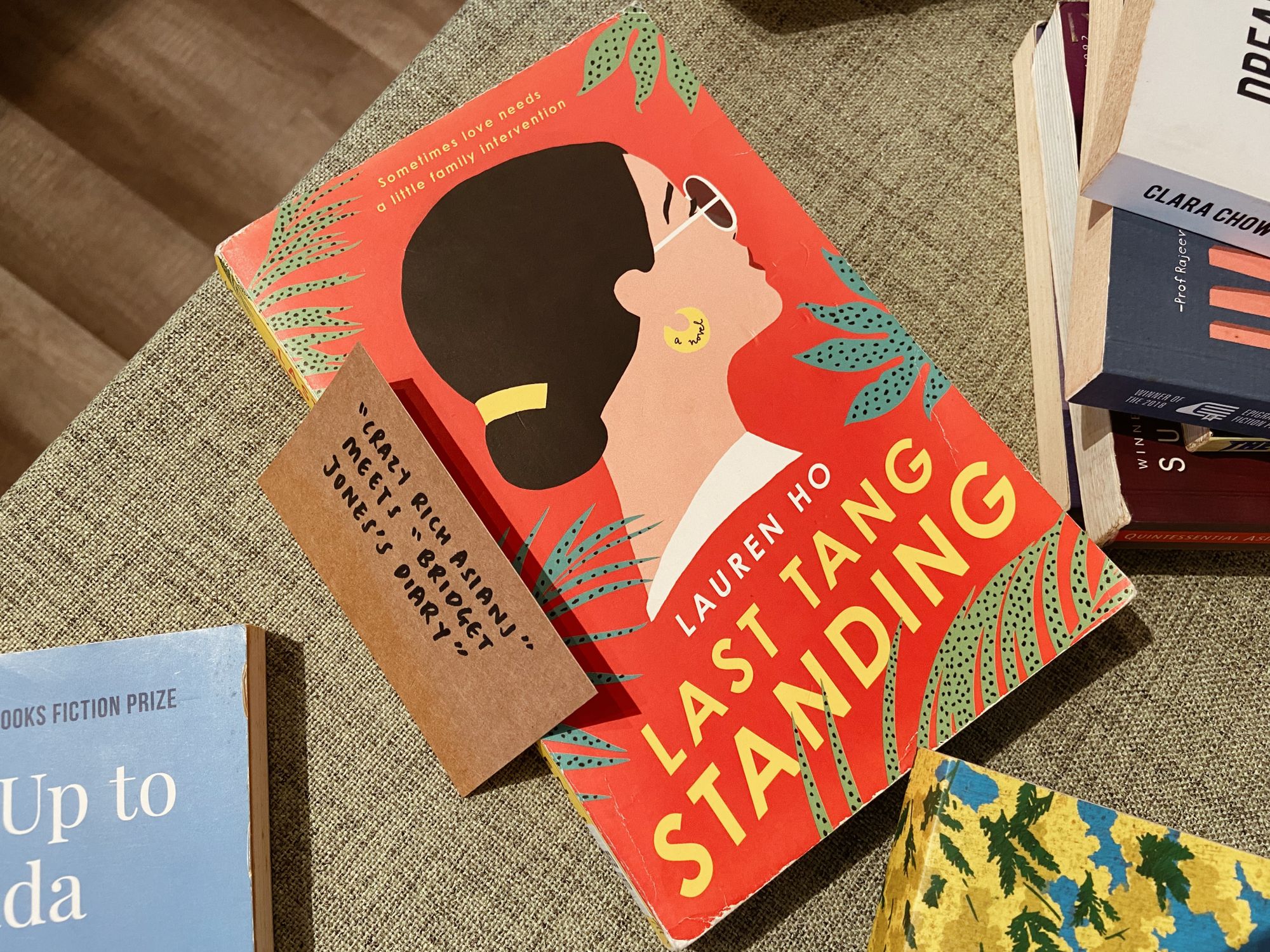 As do all good, obedient Chinese children, Andrea Tang is doing her best to fulfil her mother's plans for her life. She's on track to make partner at a top law firm in Singapore, she's staying in a beautiful apartment and she's with the perfect boyfriend…
Who is now her perfect ex-boyfriend, and suddenly her life is falling apart: she is knee deep in credit card debt, and an unfairly attractive new lawyer is out to steal her promotion. Set in Singapore, written by Malaysian author Lauren Ho, Last Tang Standing is a hilarious story of love, friendship and family. Read if you like Crazy Rich Asians, or Bridget Jones's Diary!
---
If It Were Up to Mrs Dada by Carissa Foo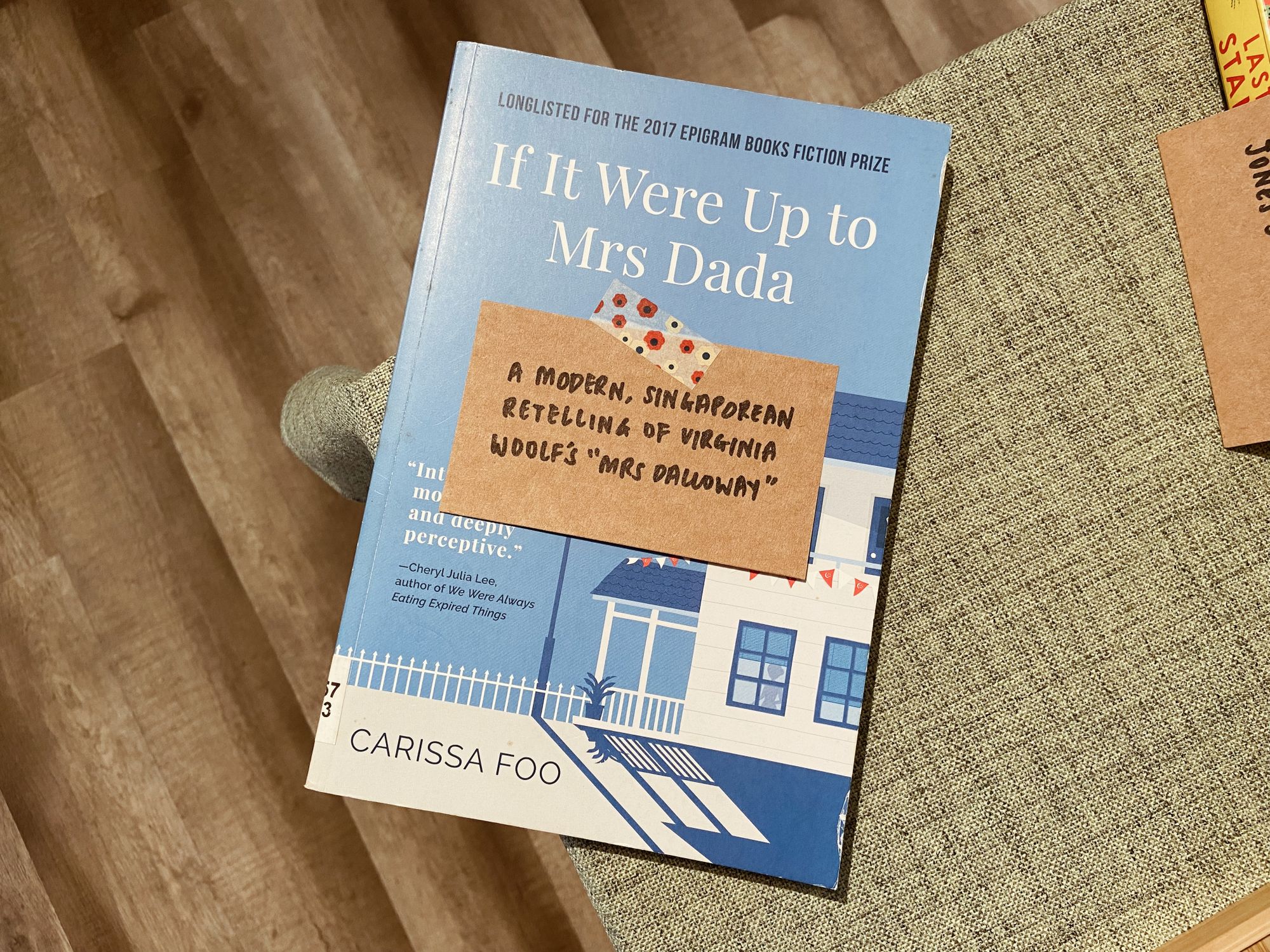 "Mrs Dada said she would buy the flowers herself.
For Lulu had her work cut out for her. The tables had to be set; the men from Neo Garden were coming. And then, thought Cheryl Dada, what a morning —"
A modern, Singaporean take on Virginia Woolf's Mrs Dalloway, If It Were Up to Mrs Dada is Cheryl Dada's reflection on her life, and her relationships, as she gets ready for her birthday party.
"...Instead Cheryl Dada thought about all the things that mattered to her. She had wanted a normal family and the love that would assure her that there was still a unit of good in the world. She tried to do the right thing and made sure her new family was nothing like the one she had had: a father who had died before she could call him Pa and a mother whose life's mission was to forget that she had a daughter — and it wasn't like that at all, thankfully. But it wasn't better either. She could not bring herself to love Adam; and Clare, who preferred women, was moving away to Toronto. For most of her life Cheryl Dada wanted love and she almost had it. She also wanted expression but there was no one to talk to. Suddenly impassioned, she let herself admit that all she really wanted was Sarah."
It's a story of a woman coming to terms with age, loss and love, and it's perceptive and deeply moving.
---
And Other Rivers by Jing-Jing Lee
Author of How We Disappeared, longlisted in 2020 for the Women's Prize of Fiction, Jing-Jing Lee wrote poetry as well. And Other Rivers is a collection centred on longings, and one's searches to fulfil these longings.
In "Still", Lee writes,
All this time, Ah Gong sits with his coffee cup
at the head of the table. Or in his armchair
watching the news, his lips tight
as if he still held pins in them.
He gets smaller with every picture
like he's folding into himself, falling
inward. Even with a walking cane, he doesn't move
but leans into it, so far
that I'm not surprised
when I picture him lying down next,
stretched out on his narrow bed,
head turned from our noise, our lives.
In other poems, a child watches her father perform a lunar new year ritual, a twin sister is given away and first-generation migrants swim for shore. And Other Rivers is a collection that starts close to home, winds its way across foreign landscapes, and finds its way home again.
---
Find these titles and more in store, at Second Story, our shophouse store located at 617A Bukit Timah Road!